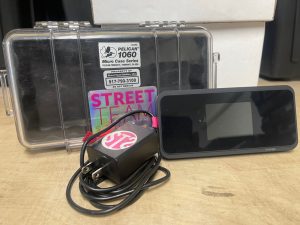 Wi-Fi is essential for any production, so Street Team Studios in Greenpoint, Brooklyn keeps you connected with two portable internet rental options. Street Team offers a Verizon 4G MiFi, which is capable of 10 users and 15GB of data, and a T-Mobile 5G MiFi, which is capable of 30 users and 100GB of data.
The Verizon 4G MiFi is excellent for a one-day shoot or a shoot of a smaller size, as it covers 10 users. The T-Mobile 5G MiFi is great for larger and longer productions, as this internet device covers 30 users. Have more than 30 users? Rent multiple T-Mobile internet devices to ensure your entire team is covered when it comes to internet access.
We carry two MiFi's with different networks so that you are covered based on service area. Both Verizon & T-Mobile have online coverage maps where you can enter your address and confirm service. Moreover, if you are on the road and moving around a lot we recommend taking out one of each to keep yourself connected on the move.
Each device comes with a charger/cord, a case, and a laminated paper with the Wi-Fi name and password. The laminated paper sign is perfect to hang up in your Production Office or on your set to easily share the Wi-Fi information amongst your team.
Grab your Wi-Fi at Street Team Studios, a one-stop-shop for all production needs. Street Team Studios is NYC's source for walkies, WiFi, production supplies, and expendables.