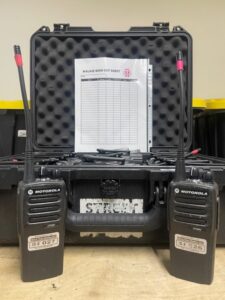 New York Motorola Radio rentals available at Street Team Studios in Brooklyn! Motorola CP200s Digital Two Way Radios are a reliable tool for communication with a battery life of 14.5-18.5 hours. There are 16 channels available limiting the chance of interference and creating space for side conversations. They are portable and lightweight at 14.3 oz, allowing for easy communication on-the-move. These Motorola walkies are perfect for film and TV production, construction, security, events, and more!
With every Motorola Walkie Talkie rental, Street Team supplies your team with FREE walkie accessories. Essentials such as extra batteries ("bricks") and chargers are included along with your choice of earpiece: surveillance, hand mic, or headset.
Street Team Studios is the go-to NYC Motorola Radio rental hub. Located in Greenpoint BK, this one-stop-shop for production offers: production supplies, walkie talkies, portable Wi-Fi, crafty, beverages, and more!
Contact Street Team Studios today to place your order:
917-790-3100
streetteamstudios@gmail.com