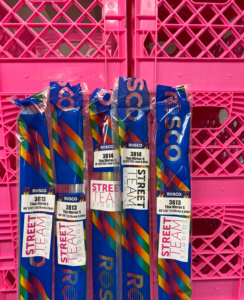 In search of gels and diffusion for film and theatrical stages in NYC? Shop ROSCO diffusers, filters, and gels in Brooklyn at Street Team Studios.
As a ROSCO dealer, STS offers a variety of filters and diffusions for coloring, correcting, and controlling light. You can buy ROSCO filters by the roll, sheet, or pay-per-use in conjunction with a rental order. Peruse your color options with E-Colour, ROSCO's comprehensive system of European color filters for film and video production.
ROSCO color effects gels enhance any lighting set up, providing color, color correction, shape, and control. ROSCO lighting materials are easy to cut and elevate any creative set up, perfect for theatrical productions, film or television production, and event production.
Our massive inventory includes numerous other ROSCO theatrical lighting and stage expendables. Street Team offers a variety of ROSCO products: ROSCO gel sheets, ROSCO gel rolls, ROSCO swatch books, ROSCO hazers, and ROSCO camera and sound expendables.
Contact us today!
Email: streetteamstudios@gmail.com
Phone: 917-790-3100