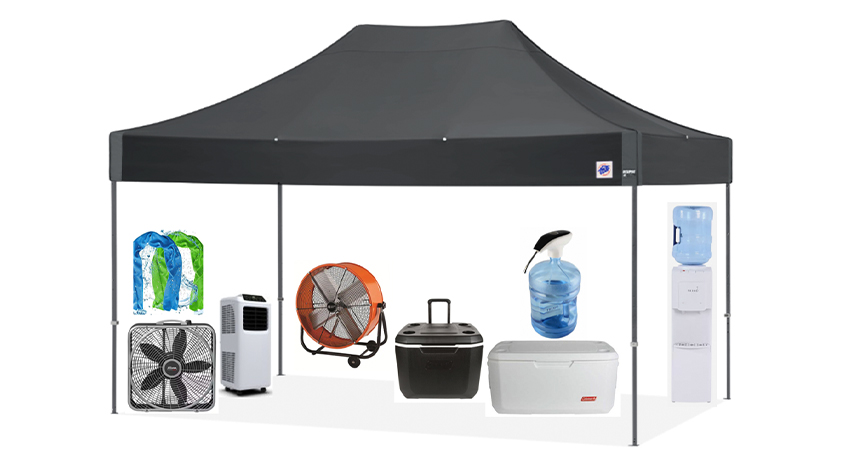 Filming in New York City in the heat and humidity of the summer can be damaging to your crew. Luckily, Street Team Studios, located in Greenpoint, Brooklyn, has tons of climate control equipment to help your team maintain a comfortable set and production office in the hot summer sun.
Air conditioners are available for rent, both 8,000 BTU and 10,000 BTU, to cool off your team. Fans are also available in a variety of styles. Large cooling drum fans, high velocity cooling floor fans, and box fans are available for rent to maintain a refreshing, chilled environment for your cast and crew.
Create a shaded and air-conditioned area in an outdoor space through renting a tent with sides. Our tents come in a variety of sizes, 5ft x 5ft, 10ft x 10ft, 10ft x 15ft, and 10ft x 20ft. Street team also offers tent accessories such as sandbags and sidewalls to elevate your set-up.
For individual relief, purchase Cooling Neck Towels. These towels chill within seconds of being dipped in water and have a cooling effect that lasts hours. A cooling neck towel is more effective than ice as its cold temperature lasts hours and it is conveniently shaped to rest on your neck or shoulders.
And don't forget to hydrate. We stock Tabletop 5-Gal Jug Water Dispensers, Top Loader Water Dispensers (For 5 Gal. Jugs), 5 Gal. Water Jugs (Primo BPA Free), Bottled Water 24pk, Canned Water 12pk, and Gatorade.
Contact us!
917-790-3100
streetteamstudios@gmail.com