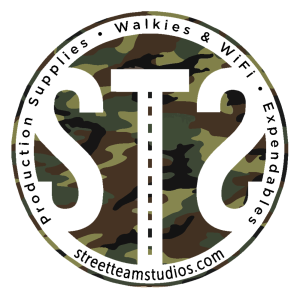 Street Team Studios in Greenpoint, Brooklyn knows what you need to protect and get your shoot locations protected and ready for production. We have materials for protecting your floors, walls, and space throughout the shooting process. Here are some Locations Department essentials:
1. Ram Board & Ram Board Stair Armor
Ram Board is a must-have tool when protecting your space form the damages of production. Ram Board is rolled out along floors to protect (hard wood, tile, concrete, linoleum, marble, laminate, etc.) from potential damage. Ram Board is good to use when you need to set stands or roll carts as it is a thick heavy-duty paper board. Our Ram Board Rolls (38"x50'), and for quick and easy stair protection, Ram Board Stair Armor is also available in a pack of 6.
2. Layout Cardboard
Layout Cardboard is also great for protecting floors from foot traffic. Layout Cardboard comes in 4×8 sheets for purchase at Street Team Studios NYC.
3. Corrugated Roll
STS carries two sizes of Corrugated Cardboard Rolls, 48"x 250' rolls and 36"x 250' rolls. Cardboard rolls are great for light foot traffic and wall protection. Long hallways, banisters, and larger rooms will benefit from the protection these larger corrugated rolls have to offer.
4. Corner Protectors
Accidents happen when moving equipment and props into a location. Ensure the protection of your walls and furniture with Corner Protectors.
5. Carpet Mask
Carpet Mask is necessary in maintaining the cleanliness of carpeted flooring on set. Prevent stains and spills from ruining you location with this carpet protection.
6. Cable Protector Ramp
Keep all your extension cords/distro organized and ensure the crew's safety with cable protector ramps. 40" Dual Channel Cable Protector Ramps are available at Street Team for rental to prevent the exposure of cables and to facilitate in smoother safer travel for foot traffic and all types of wheels.
7. Tennis Balls (Point Covers)
Coming brand new in a can -or- individually pre-cut as rentals, tennis ball point covers are available to add to the feet of stands to protect from scratches and dings.
8. Sticky Mats & Shoe Booties
Keep your space clean with sticky mats. Available in 24" x 36", Sticky mats remove debris from shoes to keep a surface spotless. Shoe Booties are an alternative option to mats, wrapping around one's shoes so to prevent dirt or grime getting on your location. Street Team Studios sells packs of varying sizes (12 pair packs, 25 pair packs, and 50 pair packs).
9. Bathroom Kits
Ensure that each all of your bathrooms are comfortable, clean, and stocked with the essentials. Street Team Studios offers a bathroom kit which includes hand soap, toilet paper, paper towels, tissue, sanitizer cleaner, and aerosol deodorant spray. Don't want the whole kit? STS also sells a variety of toiletries for individual purchase.
10. Cigarette Butt Can
Keep your outdoor space tidy and free from litter with cigarette butt cans. This simple addition to your exterior set can prevent careless litter and aid in easy disposal of cigarettes for the smokers on your team.