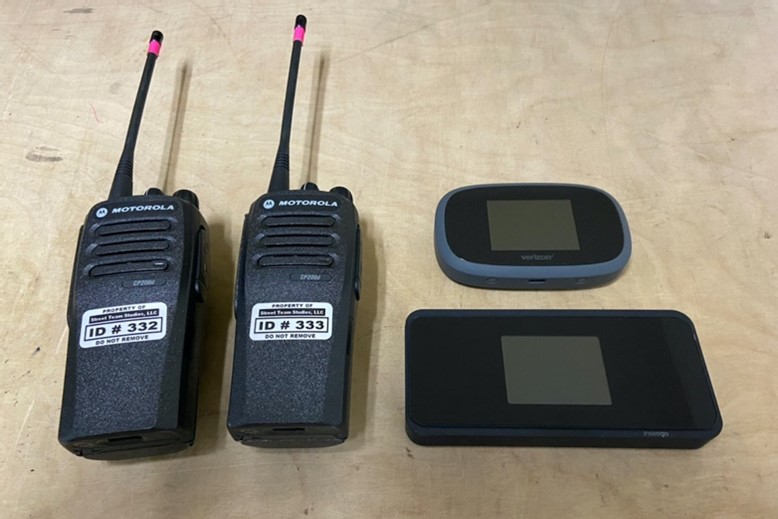 Communication is key on set, that is why Street Team Studios in Greenpoint, Brooklyn carries the Motorola CP200d Walkie Talkie paired with long lasting batteries, a wide range of channels, and adjustable volume knob. The batteries on the walkies at Street Team Studios last all day 12-14 hours each. When renting, every walkie comes fully charged alongside a pack of fully charged extra bricks to prevent frequent battery changes. At Street Team Studios, our walkies have 16 channels, allowing for a wider range of communication. Rather than attaching the antenna and battery as you hand out walkies, our walkies come packaged with the antenna and brick already attached allowing you to grab and go with no set-up. This saves you a lot of time on both sides of your shoot day. Also, with every walkie rental, chargers, bricks, surveillance kits, and hand mics come FREE of charge. All the accessories you need are taken care of with a walkie rental.
No one likes L&D, so every walkie case comes with a sign-out sheet to aid in organization, so you can track down each walkie & accessory at wrap.
Wi-Fi is essential to stay connected, so Street Team Studios has got you covered with two internet options. STS offers a Verizon 4G MiFi, which is capable of 10 users and 15GB of data, and a T-Mobile 5G MiFi, which is capable of 30 users and 100GB of data. The Verizon MiFi is perfect for a one-day shoot. The T-Mobile MiFi is excellent for larger and longer productions. Grab both your Wi-Fi and walkies at Street Team Studios, a one-stop-shop for all production needs.
917-790-3100
streetteamstudios@gmail.com