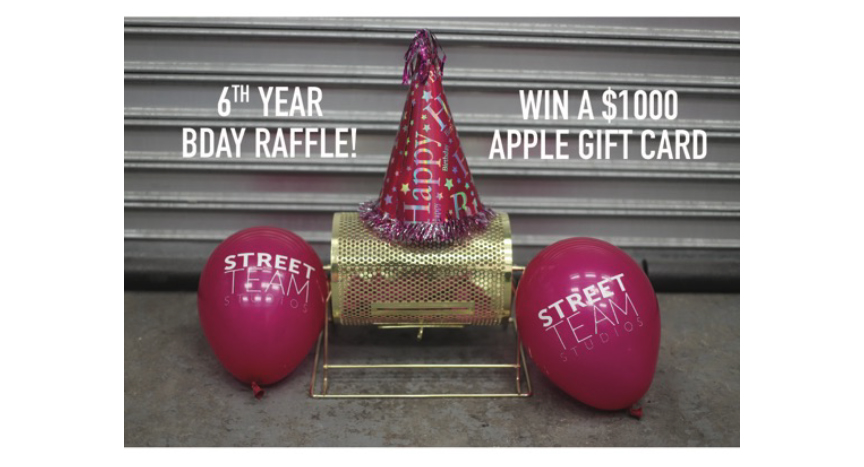 It's our 6th birthday this summer and to celebrate we are giving away a $1,000 Apple Gift Card.
Each production supply order you place (minimum $500) between June 1, 2023 through August 31, 2023 gets you one ticket into the raffle. Earn TWO bonus tickets (3 total entries) if you order BOTH Production Supplies & Walkie Talkies in the same order — Good luck!!!
***Raffle will be recorded and posted on our YouTube channel for transparency. Winner will be drawn and notified Friday September 1, 2023. Earn entries for ALL qualified orders from June 1, 2023 through August 31, 2023 (no limit).
Email Production Equipment Orders: streetteamstudios@gmail.com
Order Production Supplies Online: https://streetteamstudios.com/online-order/
Download Production Supply Order Form: https://streetteamstudios.com/order-form/
Reserve Motorola CP200d Radios & WiFi / MiFi Rentals: https://streetteamstudios.com/1-day-rental/
About Us: Street Team Studios is a Production Equipment rental company located in Brooklyn, NY. We were the first company in NYC to rent BOTH Production Supplies, Walkie Talkies, & Internet Jetpack Hotspots. We continue to grow our inventory as a Production Supply vendor in NYC to eliminate stops and save YOU time.
P.S. Make sure to subscribe to our YouTube channel to watch the drawing: