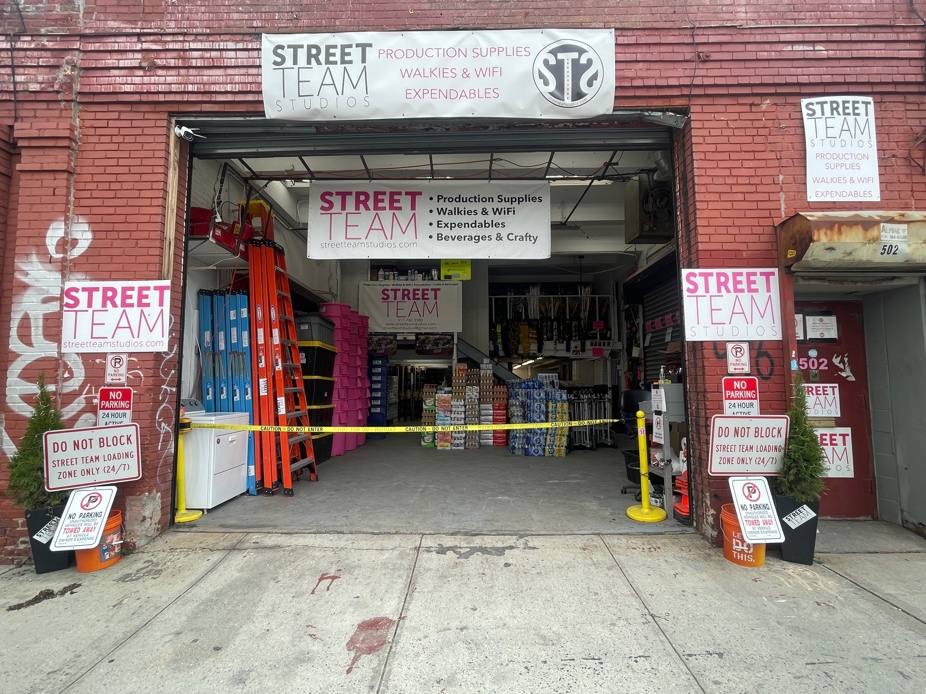 In the summer of 2022 Street Team Studios moved and expanded into a new warehouse triple the size at 502 Morgan Ave, Brooklyn, NY 11222.

In our new much larger space we were able to expand our inventory greatly.

One of our goals is eliminate as many stops as possible for you. We had initially started this goal during the pandemic to protect the PA's and everyone on set. The logic was the less the stops the PA's are making the less chance of them contracting COVID and/or introducing it to set. At that time we added Beverages & Crafty Baskets.
***Our crafty baskets continue to be popular when budgets do not allow for a craft service attendant.

Now with the pandemic in our rear-view mirrors we realized that eliminating stops for our customers has an even greater value. NYC traffic can be horrendous, and pick-up days can often be impossible at times to cram in all the stops. As a result, we kept the Beverages & Crafty Baskets and with our new larger space expanded our offerings of:
-G&E Expendables
-Camera Expendables
-Fabrics for Film
-Tapes for Film
-Location Protection
-Production Supplies
-Walkies & Wi-Fi / MiFi

Moreover, we continue to stock all the PPE, cleaners, and disinfectants added during the pandemic. We know that even though the pandemic is behind us it was a good lesson to keep sets clean & disinfected for the overall health & wellness of everyone.

We know time is money. That is why our Walkie Talkie Rentals are such a popular & valuable tool on set. And by expanding our inventory we hope to bring that same value to your pick-up & return days. Thank you for trusting us with your Production Supply Rental orders!